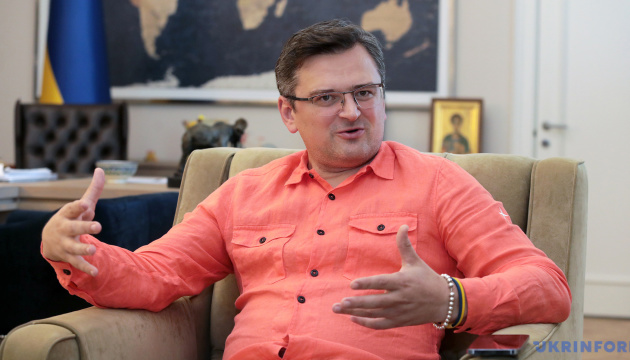 Ukraine expects from an IEAE mission heading off for the Zaporizhia NPP a clear statement on Russia's violations of nuclear safety protocols at the facility.
That's according to Ukraine's Foreign Minister Dmytro Kuleba, who spoke at a joint press conference in Stockholm alongside Sweden's PM Magdalena Andersson and Foreign Minister Anne Linde, an Ukrinform correspondent reports.
"We expect from the mission a clear statement of facts of violation of nuclear safety protocols. We know that Russia is putting not only Ukraine but also entire world at risk of a nuclear accident," said Kuleba.
The minister noted that the IAEA mission was already on its way to Ukraine and that he had coordinated the details of the trop with the agency chief, Rafael Grossi.
"It has been a long-standing request of Ukraine for the IAEA to receive access to the plant. They have vast experience in inspecting nuclear power facilities across the world under the most difficult circumstances but, without an exaggeration, this mission will be the hardest in the history of IAEA given the active combat activities undertaken by the Russian Federation on the ground and also the very blatant way that Russia is trying to legitimize its presence at the Zaporizhia Nuclear Power Plant," Kuleba told reporters.
The head of Ukrainian diplomacy also called on the international community to be united in demanding that Russia withdraw its forces from the ZNPP. "Russia must go, and IAEA, as well as other countries of the world, we have to make them go. As simple as that. This is the only way to ensure nuclear security at the power plant," Kuleba stressed.
As reported earlier, IAEA Director General Grossi said the agency's mission is already on its way to the Zaporizhia NPP.
According to The New York Times, the mission has on board a total of 13 experts from the mostly "neutral" states, while no U.S. or British officials will be part of the team set to visit the ZNPP site.
As reported by Ukrinform, the Zaporizhia NPP, the largest nuclear power plant in Europe, was assaulted and seized by the Russian military on March 4. Since then, the invaders have been accumulating military equipment and ammunition on the NPP premises and shelling the surrounding area.
The European Union has condemned Russia's military activities around the ZNPP, calling on the Russian Federation to immediately hand control over the plant back to Ukraine.
Ukraine authorities emphasize that the Russian military has turned the Zaporizhia NPP into an actual military base, putting the entire continent at risk.
Subscribe to BestNews NG for More! on Russia Ukraine Live Updates